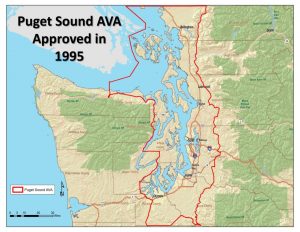 The Puget Sound AVA is an American Viticultural Area located west of the Cascade mountains and east of the Pacific Ocean and the Olympic Mountains. The Puget Sound runs through the middle of the AVA and is bordered by Canada to the north and end just south of the capital of Washington state, Olympia. The AVA encompasses many islands.
The climate is one defined by the proximity to water, namely the Puget Sound and the Pacific ocean. The climate is defined as a Maritime climate with sunny, dry and mild summer and wet, mild winters. The soils of the Puget Sound AVA are made up by the leftovers of the last ice age. The Vashon Glacier deposited hundreds of feet of sand, silt and rocks over the Puget Sound basin. This sandy, loam soil is perfect for raising high quality grapes.
The grapes that are mainly grown in the Puget Sound AVA are: Madeleine Angevine, Muller-Thurgau, Siegerrebe, Pinot Noir and Pinot Gris. The style of wine is light, crisp and low alcohol which pairs well with much of the seafood and food raised in the Puget Sound AVA.
There are about 20 wineries in the Puget Sound AVA that produce wine from from grapes grown in the Puget Sound AVA and there are about 100 producing vineyard acres in the AVA.
If you are interested in growing wine grapes west of the Cascade mountains in Washington state, a good place to start reading is the WSU publication EM068E "Growing Winegrapes in Maritime Western Washington".